Scout is coming.
Last year, Scout set out on a mission to put the most advanced sales and outreach strategies in the hands of everyday ordinary business. Without realizing it, we had spent years developing tools and strategies that that could finally help small businesses in the competition for customer acquisition and engagement.
The result of all of our hard work and R&D was a tool that was so simple that it could easily be used by someone without any sales training and so effective that it could DOUBLE their sales goals.
The only problem was that we were keeping it all to ourself. We had no idea how successful it would be in the market with other users. We gave it a try with a few more salespeople... and it worked. They saved hours and blew away their sales goals. We tried it again with business owners in different industries - and the results were the same. We knew that we couldn't keep it to ourselves anymore. We needed to share what we had built.
Since the day that we decided to share Scout's tools and strategies, just a few months ago, over four thousand people have discovered how Scout can simplify their day-to-day life, saving them time and money.
Today, we're excited to announce that the same technology that was only available Fortune 500 companies and those select few Scout insiders will now be made available to small local businesses everywhere.
With Scout, you now have an intelligent sales and marketing assistant that researches and identifies your ideal customers, writes compelling messages to them, and follows up with them for you.
So, you can start to engage your community in less than 10 minutes.
That means you can start to eliminating all of the mundane tasks associated with sales outreach and focus on what matters most in your business, high quality customer interactions and growing your business.
How does Scout do all of this for you?
We provide the best performing campaign templates for each industry
The first thing that Scout does is understand the types of marketing and sales campaigns that work within your industry. Whether it's a flyer to local homeowners to let them know about a similar home sale on their block, a car dealership announcing a holiday special, or a flyer for the grand opening of a new weakness center in the community, we've got it.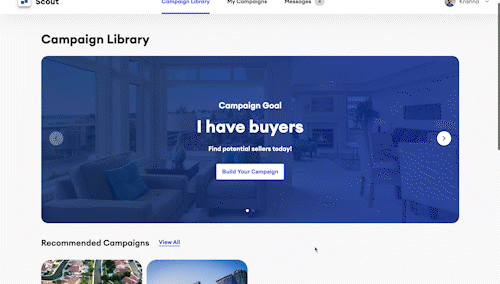 We identify your most likely customers
Scout has smart-data profiles on over 300M contacts to make finding your ideal customers a breeze. We take things into account like age, net worth, income, home ownership and even interest and hobbies, so you don't have to spend countless hours combing through endless sets of data, lead sheets, or CRMs.


We personalize every message
We personalized every message to make sure that it resonates with your target customer.
Each campaign is custom built with a specific industry in mind, written by a professional sales copywriter, and is A/B tested across tens of thousands of recipients to ensure campaign performance. Every message is personalized with your recipient's information, so you can eliminate time spent writing emails or uploading data.
We've gathered the best sales copywriters and put them to the test against artificial intelligence, to see who can create the best and highest performing campaigns.
We handle all of the outreach
As if all of this wasn't time consuming enough, Scout writes each message and schedules the best time to reach out and follow up with each recipient.
We take things into account like the CAN-SPAM act, to protect your domain reputation so you stay out of marketing jail.
From finding and cleaning valid emails to handling unsubscribe links, Scout takes care of the entire process.
We make it easy and affordable
Helping small businesses achieve massive success is in our DNA (and that includes making it affordable). Our goal is for you to find your forever campaigns in no time, have them out the door in minutes, and start bringing in new customers daily.
Don't hesitate to reach out to us at hi@trustscout.com or find out how you can be one of the first to use Scout in your neighborhood.