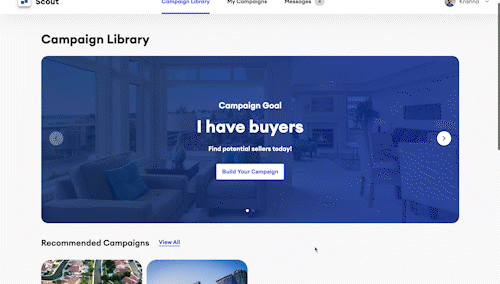 Scout's marketing automation system is a digital engine that fills your inbox with new listing appointments.

This digital engine uses the art and science of data and AI to help you uncover more customers and start more conversations with them.
Results that don't mess around.
Generate Qualified Leads the New Way
Stop guessing which contacts to go after. Scout's predictive analytics already knows who your ideal target customers are.



MORE QUALIFIED
LEADS
Marketing On Autopilot And Sales On Steroids
Consistent, engaging campaigns that convert high-quality leads for salespeople that don't want to focus on lead gen.



The Power of a Marketing Team Without The Cost
Get access to dozens of highly personalized sales and marketing campaign templates designed to drive engagement.



SALES
CONVERSION
Change The Way You Think About Sales
You'll be closing qualified leads you didn't even know existed in less time and with less effort.
Getting Started With Scout Is Easy.
It takes less than 5 minutes to get up and running with Scout. After getting started, the average Scout user sees...
Say goodbye to time spent researching the MLS.
Conversations go a lot further than contact information.
Smart data scores high intent sellers in your neighborhood
Top Agents Across The Country Use Scout
I can directly attribute over $45K dollars of profit to my first Scout campaign. And I can't even begin to add up how much more it's put in my pipeline...
Karen Hoover | Broker, Resident Realty
Within 3 miles of my office
Imagine how easy it would be to click a button and have a template ready to go for contacts in a target location. Well, that's how easy we make it.

Let Scout handle the research, scripting, and delivery. Did we mention that everything is personalized?
Scout for off-market deals
Looking for off-market listing?

Have a few buyers in the market that can't find what they're looking for? Turn those buyers into listing appointments with personalized data points.

Scout has the perfect solution for you.
Over 200 million homeowners
Scout for seller awareness
Got sales? Let the neighbors know.

Identify owners of similar homes, let them know that the market is still hot, and you're the local expert when it comes to selling a home like theirs!
You name it, Scout's got it!
No matter what you want to use Scout for, we'll help you figure it out. Whether it's to prep a cold call or make mailers more effective, we can help you do it.